Hot books we're reading on cool docks this summer. Everything from YA and Beach to Highly Literary.
Lakeside, dockside, poolside… whatever your perch, we have a Beach Read for you! Our summer book previews and reviews cover all kinds of genres, from Historical and YA, to Murder, Mystery, and Literary. So pull up a sun chair, it's going to be a read-worthy summer.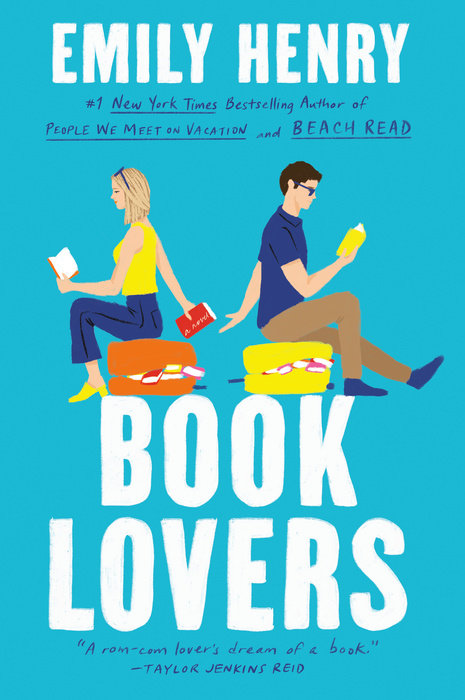 By the way, top-selling books in Canada in May 2022 include: Book Lovers by Emily Henry, It Ends with Us by Colleen Hoover, The Summer Place by Jennifer Weiner, The Diamond Eye by Kate Quinn, and Watch Out for Her by Samantha M. Bailey. (Source: BookNet)
---
Book Lovers: Emily Henry's Latest Beach Read
Emily Henry's 2020 Beach Read was my best-loved beach read of that summer, and I was very excited to begin summer 2022 the same way. Her latest, Book Lovers, combines many of my favourite escapist ideals.
This book is both an homage to Hallmark movies and a book about the business of books. It's set in a quirky small town with an eclectic population and a Fitzwilliam Darcy-esque hero who is dark, brooding and—not surprisingly—misunderstood. Our protagonist, Nora, a confirmed Manhattanite agrees to a month away in Sunshine Falls, North Carolina, to appease the younger sister, Libby, she cannot deny. I got momentarily distracted by my own malaprop when I couldn't understand why Nora and Libby's giggles about the oddly named coffee shop, "Poppa Squat," didn't lead to the term coined by Julia Roberts in Pretty Woman, until I realized that I was misremembering "cop-a-squat."
There is tragedy and angst in their backstory and the plot relies on miscommunication and misunderstanding to drive itself forward, but many of the conversations that actually do take place are a testament to the honest dialogue Henry prefers and is skilled at delivering. The escalatingly steamy sex scenes are equally enticing to heat up a cool summer night or put a little extra spice into an already humid afternoon. My fave quote by Nora, "Not every decision a woman makes is some grand indictment on other women's lives."
—Review by Elizabeth Rush Brooks
---
Cloud Cuckoo Land: Savour This Story
I was a cuckoo for listening to Anthony Doer's tour de force Cloud Cuckoo Land on audio. DO NOT DO THAT! I should have known better based on the power and beauty of All The Light We Cannot See, but I did it anyway. LIsa Thurger told me I would love this book and I did not believe her. I am not a sci-fi fan and since the novel opens in 2146 with a young girl who has been locked in a room on a ship called the Argos for 300 days with only Sybil—an AI—for company, I felt pretty cocky in my dismissal. But, I hung on and I'm glad I did.
This beautiful tale weaves itself from 15th century Constantinople, to 1940's small town Idaho, to the same town in 2020, and the ship bound for a new home in 2146. At its essence, it is a love story about books and stories: "But books, like people, die. They die in fires or floods or in the mouths of worms or at the whims of tyrants. If they are not safeguarded, they go out of the world. And when a book goes out of the world, the memory dies a second death." But it also strives to examine the meaning and impact of a single life on the world around it. The butterfly effect, it you will.
Ross Turvey was right when he told me I had to hold this beautiful work in my hands and enjoy it. It was too late. I had not entered Cloud Cuckoo Land the right way. It's summer. There's time. Savour this story. Enjoy this epic journey. "Each morning comes along and you assume it will be similar enough to the previous one—that you will be safe, that your family will be alive, that you will be together, that life will remain mostly as it was. Then a moment arrives and everything changes."
—Review by Elizabeth Rush Brooks
---
I Let You Fall: YA for Readers Drawn to the World of Miracles
I Let You Fall by Sara Downing is a riveting YA read about what happens to people when they are caught between life and death. In this supernatural tale, readers are drawn into a world of miracles, romance, heartbreak, and mystical responsibilities.
On an unexpected summer's eve in London, Eve Chapman finds herself in the hospital emergency room. At first, she believes herself a mere spectator as doctors and nurses rush to tend to a young woman with a terrible head injury, only to realize the woman on the gurney is herself.
Ever since she discovers she's been in a tragic accident that has resulted in a coma, Eve has been trying to find a way back into her body and the living world. Unfortunately, it's not as easy as she hoped. Just when Eve thinks she may be stuck in her body forever, she meets someone who is caught somewhere between the living and dying world. Meeting this stranger opens Eve up to a whole other world where miracles exist. The more Eve learns about this new reality she's found herself in, the more she questions whether returning to the living is worth the effort.
Downing creates a world full of possibilities in her story with Eve, a strong lead who is full of determination and curiosity. The novel really takes off when she meets Luca, a carefree spirit who is always down for an adventure and proves to be an amazing teacher as he guides Eve through her new reality. Together, they create the perfect pair as they banter and lean on each other for support when they talk about their old lives and their desire to return. It goes to show that while possessing unique abilities feels a lot like being a hero with a cape, nothing beats an ordinary life.
Not only does this novel provide an uplifting concept of where coma patients may end up, but it will return people to the idea that miracles do exist and coincidences may not be entirely coincidences. While there are a few teary, emotional moments, readers will find there are a lot of funny and awe-inspiring ones as well.
For readers who enjoy romance, magic, and a world full of possibilities, this is a novel worth picking up. I Let You Fall (TCKpublishing) by Sara Downing is available now for purchase! Go pick up a copy!
—Review by Kaitlyn Sutey
---
The Limitless Sky: Thrilling YA by a Muskoka Author
"The Limitless Sky" by Muskoka author Christine Kilbourne is a thrilling YA dystopian novel that takes place centuries after an environmental catastrophe have wiped out most of the human population. This exciting new novel will take readers years into the future when the survival of the human race depends on pursuing knowledge and discovery in a society that tries to suppress it.
Rook has grown up in the ArHK knowing her life was planned since birth to be the next Keeper of the archives. What originally seemed like lifetime spent in a boring dead-end job, turned out to be so much more when Rook discovers a hidden video clip of the Chosen Ones arriving to ArHK. Suddenly, Rook's world has opened to epic proportions and there are a lot of people who will do anything to ensure that information remains secret.
Gage is always on the move with his family and community, traveling treacherous lands and dangerous situations in the pursuit of knowledge from centuries past. He journeys with a group of scouts to find the ship of knowledge that will allow them to move across far distances, heal people of illnesses, and rebuild their lost societies. Except, the search for this information is dangerous and comes at a high cost, one that Gage and his community may not be able to afford.
Kilbourne has created a story that weaves a large cosmos issue such as an environmental crisis with a much more intimate concern of escaping one's situation for something bigger—hope. Rook and Gage have everything to lose and so much at stake that it's easy to get lost in the pages, devouring their stories and hoping they can find a way out of their situations. Paired with the environmental disaster years previously that still affects them and has upheaved their lives is a perfect contrast with the reality of the world today and the growing concern of what will happen to the world.
This is a dystopian story that will resonate with today's generation for the main characters who strive to fight for what they believe in, even if it goes against everything they have been taught or thought to be possible. Readers will be charmed by the humourous moments, given adrenaline during highly intense scenes, and drawn in by the suspense carried throughout the story. "The Limitless Sky" is a riveting read that will easily be devoured in one sitting!
Look for "The Limitless Sky" (Dundurn Press) by Christina Kilbourne is available for purchase now.
—Review by Kaitlyn Sutey
---
A Quiet Dissonance: A RollerCoaster
"A Quiet Dissonance" is a debut novel by Poornima Manco about struggling to find acceptance and belonging within two very different cultures, within oneself, and among social groups. It's a tough, sorrowful novel that universally speaks to people's insecurities and their desire to find support and love from others. Expect to feel a rollercoaster of emotions because Manco doesn't hold back on her emotional take on what it means to be an outsider looking for love, friendship, and self-acceptance.
Anu and her family create a fresh start for themselves in a small village in the English countryside. While her husband quickly finds a place for himself among his work colleagues, Anu is struggling to find friends of her own. Worried she won't fit in unless she learns to adapt, Anu embarks on a long journey on what it means to be accepted and whether the consequences of "fitting in" are worth it.
If there is one book that everyone must read this year, it's "A Quiet Dissonance." What outwardly appears to be a family's struggle of trying to adapt to a new, foreign country is actually much, much more complex. In this wildly intense novel, Manco manages to touch on a series of topics and situations everyone can relate to regardless of race, history, or culture. This is one of those rare novels that is able to connect with a wide-range audience in a way that is guaranteed to make them feel as though part of their experience has been written into these pages.
Through Anu's tale, there is a feeling of inspiration to be more open and understanding. Since this tale has multiple themes and topics from race and classism to finding outward and inner acceptance of oneself, one can learn a lot about how seemingly perfect people are going through their own hardships. There are many lessons to be gained from Anu's story while still retaining the enjoyment of a leisurely read.
It is the evident passion behind each word that will no doubt cause Manco's novel to be a must-read and inspiration within its own genre and spark a discussion among readers and the media.
For more on the author, see https://www.poornimamanco.com/ The book and where to buy it: https://www.poornimamanco.com/book/a-quiet-dissonance/
–Review by Kaitlyn Sutey
The Girl on the Platform: Riveting!
"The Girl on the Platform" by Bryony Pearce is a riveting, must-read adult novel that combines crime and a psychological thriller together in an enthralling tale. Everything about this novel is deeply unsettling from the main character's behavior, the dreary atmosphere, and the inexplicable disappearance of a young girl.
On a train ride home from work, a young girl on a platform is kidnapped. Bridget, a new mother, is the sole witness. Except, no one believes her. Diagnosed with prenatal depression, the police are convinced her medication has caused her to hallucinate the scene. With no other witnesses or children from the area reported missing, Bridget is the only one who believes there's a little girl out there waiting to be found.
Against the wishes of her husband and mother, Bridget takes on the responsibility of doing everything in her power to find this missing child. Consumed by this girl's case, Bridget risks losing her job, her family, and maybe even her own sanity. The deeper she digs into what happened to this missing girl and who might've taken her, the clearer it is that Bridget has landed on something big, big enough to put her own life and that of her family in danger. But if she doesn't stop looking for the girl on the platform, who will?
Wild, intricate, thrilling, and highly emotional are only a few words to describe the heartbreaking tale audiences will easily be captivated by as they are drawn into Bridget's complicated marriage and her grim determination to find a young girl despite the odds against her. There is no easing into this story as the action begins on page one and continues to excel with alarming break-neck speed as the tale progresses.
Bridget is a compelling, though oftentimes frustrating character. Some of the things she says and does are hard to understand, even shocking in some places. It creates a fascinating love-hate relationship with the reader in which her motherly affection produces warm and fuzzy feelings while her more extreme behavior leaves behind a deeply unsettling chill. What causes these changes in Bridget? Is she a reliable character or are the people around her onto something about her mental health?
One thing for sure is that "The Girl on the Platform" is an extremely unsettling and chilling novel that fans of crime and psychological thrillers will not want to miss.
For more on The Girl on the Platform, see AVON BOOKS. Read more about author Bryony Pearce HERE.
-Review by Kaitlyn Sutey
Fresh Brewed Murder: Perfect for Coffee Lovers
Fresh Brewed Murder by Emmeline Duncan is the perfect murder mystery for coffee lovers. The first novel to the Ground Rules mystery series is a tasty blend of caffeine, comedy, and a splash of "whodunit" murder. Nothing goes better with summer than a young barista hunting down a cold-blooded killer while whipping up new recipes for coffee fanatics to help them make it through the day.
​Sage Caplin and her friend Harley are finally living their dream of running their own coffee stand—even if it is a small shop in a food truck lot. Their hopes of turning it into something bigger is thrown for a loop when a man is found murdered in front of their cart—and Sage is the prime suspect.
​Except, it could be anybody from the owners of the food trucks who aren't happy about Ground Rules opening on a coveted spot to the people protesting a new high-rise. With her business, life, and reputation on the line, Sage makes it her responsibility to find the person trying to frame her for a crime she didn't commit. Read more about Fresh Brewed Murder HERE.
-Review by Kaitlyn Sutey.
---
The Great Godden: About Summers by the Sea
We Were Liars meets Call Me By Your Name in this lyrical and quintessential coming-of-age YA tale about a summer when everything changes, from Meg Rosoff, bestselling author of the iconic novel How I Live Now.
This is the story of one family, one dreamy summer. . . . In a holiday house by the sea, our watchful narrator sees everything, including many things they shouldn't, as their brother and sisters, parents and older cousins fill hot days with wine and games and planning a wedding. Enter two brothers: irresistible, charming, languidly sexy Kit and surly, silent Hugo. Suddenly there's a serpent in this paradise — and the consequences will be devastating. Published by Penguin Random House Canada.
---
---
---
When The Stars Go Dark: Beachy Murders & Dreams
From the New York Times bestselling author Paula McLain of The Paris Wife comes an atmospheric novel of intertwined fate and heart-wrenching suspense: A detective hiding away from the world. A series of disappearances that reach into her past. Can solving them help her heal?
Anna Hart is a seasoned missing persons detective in San Francisco with far too much knowledge of the darkest side of human nature. When unspeakable tragedy strikes her personal life, Anna, desperate and numb, flees to the Northern California village of Mendocino. She spent summers there as a child with her beloved grandparents, and now she believes it might be the only place left for her to heal. Yet the day she arrives, she learns a local teenage girl has gone missing. Anna is in no condition to become involved with the search–until a childhood friend, now the village sheriff, pleads for her help.
Then, just days later, a twelve-year-old girl is abducted from her home. The crimes feel frighteningly reminiscent of the most crucial time in Anna's childhood, when a string of unsolved murders touched Mendocino. As past and present collide, Anna realizes that she has been led to this moment. The most difficult lessons of her life have given her insight into how victims come into contact with violent predators. As Anna becomes obsessed with these missing girls, she must learn that true courage means getting out of her own way and learning to let others in.
Weaving together true crime, trauma theory and a hint of the metaphysical, this tense, affecting story is about fate, unlikely redemption and what it takes, when the worst happens, to reclaim our lives–and our faith in one another. Published by Penguin Random House Canada.
---
Lucky: About Grifters & Road-Trips
For fans of The Flight Attendant​, a compelling and thrilling road-trip novel by Marissa Stapley about a talented grifter named Lucky whose past comes back to haunt her.
What if you had the winning ticket that would change your life forever, but you couldn't cash it in?
Lucky Armstrong is a tough, talented grifter who has just pulled off a million-dollar heist with her boyfriend, Cary. She's ready to start a brand-new life, with a new identity—when things go sideways. Lucky finds herself alone for the first time, navigating the world without the help of either her father or her boyfriend, the two figures from whom she's learned the art of the scam.
When she discovers that a lottery ticket she bought on a whim is worth millions, her elation is tempered by one big problem: cashing in the winning ticket means the police will arrest her for her crimes. She'll go to prison, with no chance to redeem her fortune.
As Lucky tries to avoid arrest and make a future for herself, she must confront her past by reconciling with her father; finding her mother, who abandoned her when she just a baby; and coming to terms with the man she thought she loved—whose complicated past is catching up to her, too.
This is a novel about truth, personal redemption, and the complexity of being good. It introduces a singularly gifted, complicated character who must learn what it means to be independent and honest…before her luck runs out. Published by Simon & Schuster
---
The Last Thing He Told Me: A Sausalito Sojourn
A gripping new mystery by Laura Dave about a woman who thinks she's found the love of her life—until he disappears.
Before Owen Michaels disappears, he smuggles a note to his beloved wife of one year: Protect her. Despite her confusion and fear, Hannah Hall knows exactly to whom the note refers—Owen's sixteen-year-old daughter, Bailey. Bailey, who lost her mother tragically as a child. Bailey, who wants absolutely nothing to do with her new stepmother.
As Hannah's increasingly desperate calls to Owen go unanswered, as the FBI arrests Owen's boss, as a US marshal and federal agents arrive at her Sausalito home unannounced, Hannah quickly realizes her husband isn't who he said he was. And that Bailey just may hold the key to figuring out Owen's true identity—and why he really disappeared.
Hannah and Bailey set out to discover the truth. But as they start putting together the pieces of Owen's past, they soon realize they're also building a new future—one neither of them could have anticipated.
With its breakneck pacing, dizzying plot twists, and evocative family drama, The Last Thing He Told Me is a riveting mystery, certain to shock you with its final, heartbreaking turn. Published by Simon & Schuster
About the Reviewer: Kaitlyn Sutey lives in Bracebridge, Ontario. She completed a double major in English Literature and Creative Writing in May 2019 from Dalhousie University. Back at home, she spends most of her time reading and writing novels. Kaitlyn aspires to edit manuscripts for a publishing company, and to one day release a novel of her own. See Kaitlyn here .
Fourth generation Muskoka cottager and author of An ABCdery of Muskoka's History, Elizabeth Rush Brooks loves to read as much as she loves to write. Former columnist and book reviewer for The Muskoka Sun and Urbanmoms.ca, Elizabeth has also been published in Today's Parent and Escarpment Magazine. During the school year she shares her love of all things literary with her secondary school students but come summer, Elizabeth can be found just about anywhere in Muskoka with a book in her hand and a tea by her side. Follow her reviews on Facebook and Instagram @anabcderyofmuskokashistory.
What's Your MuskokaStyle?
Share a photo of your favourite MuskokaStyle on Instagram. Tag #MuskokaStyle for a chance to be featured. @MuskokaStyleMag
Want to read more from MuskokaStyle? SIGN UP for our e-news: SUMMER IN YOUR INBOX!